How to use PStill to tile a large PDF page
This tutorial describes how to use PStill to tile a large PDF page into several smaller pages you can then print and 'glue' together to get a large poster or plan.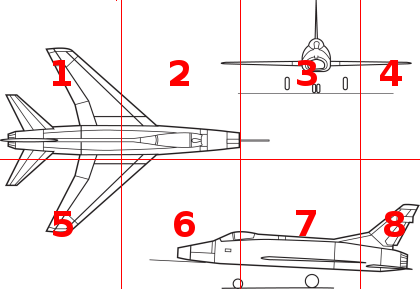 Example for tiling of large pages

1. Start GPStill.exe. You will see this window: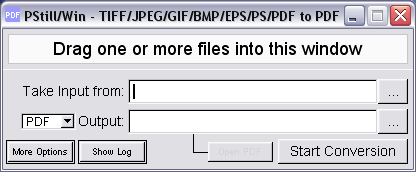 2. Now drag and drop your PDF into the window. It should be a single page PDF.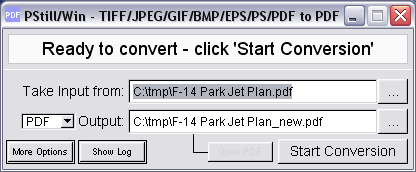 3. Open the Options by clicking the button 'More Options'. PStills Window will enlarge: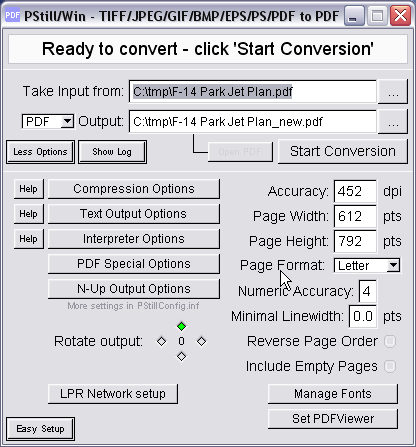 4. Click on the 'Page Format' selection and select 'Get'. This setting tells PStill to take over the page size from the source job.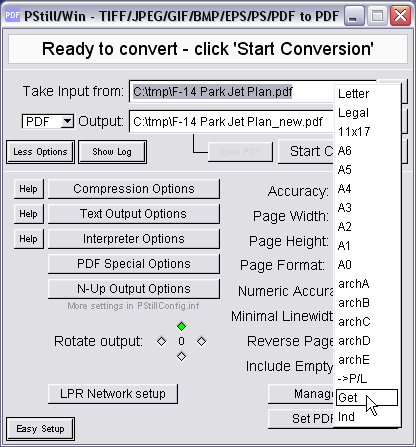 5. A message box opens asking if you want to increase the initial page size. PStill can only 'shrink' this initial size during processing so it should be larger or equal to the size of the largest page in the input.

Click on 'Set' and the dialog closes.
6. PStill has now increased the max. page size to 4000 x 4000 pts (141 x 141 cm, 55.5 x 55.5 inch). If the page you want to process is smaller than that size you can go ahead.
In case the page you want to process is larger you can now increase the inital size even further by editing the width and height values. Here we go to 8000 x 8000 pts for a max. input size of 282 x 282 cm or 111 x 111 inch. You can still increase size further however extremely large values will reduce output resolution slightly.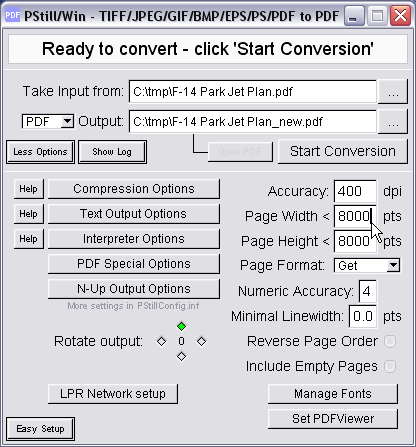 7. Now select the N-UP Script for automatic tiling. Click on 'N-UP Output Options'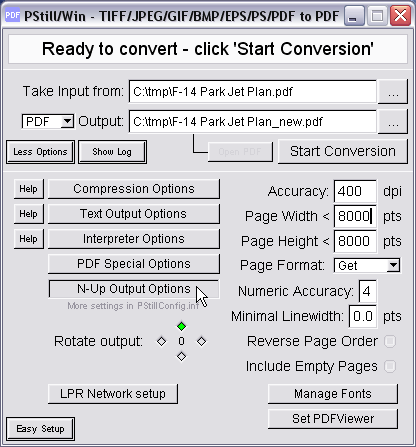 8. Click on the selector and select the 'POSTER-tiled-Letter.sl' for US letter format output or 'POSTER-tiled-A4.sl' for A4 output page size.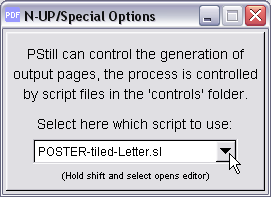 or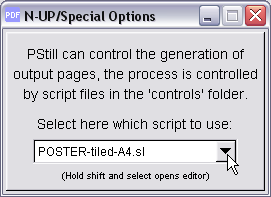 Close the 'N-Up/Special Options' window.
9. You are now set - click 'Start Conversion'. PStill will process the input and create a multi-page tiled output.
Tip: Poster creation will only work for single page inputs. If your PDF source contains more than one page you can extract a single page from it by holding down 'left-shift' when you click on 'Start Conversion' and specifying a page range like '1-1' for the first page, '2-2' for the second, etc.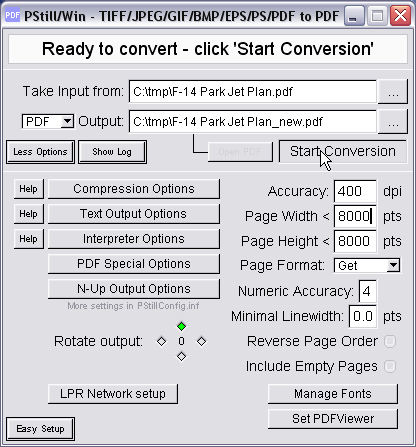 Click to view the equivalent options for this operation for command line use (Windows and UNIX)
Your source PDF is not the right size? Click here for information on how to rescale a PDF using PStill.
PStill can also tile PostScript, EPS, TIFF, JPEG, BMP and GIF this way.
Questions regarding this tutorial? Send me an email.